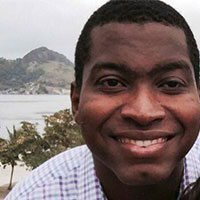 Doutor em Comunicação e Cultura pela Escola de Comunicação da UFRJ com bolsa Faperj Nota 10. Pesquisador visitante na University of Wisconsin-Milwaukee por intermédio do Programa de Bolsa de Doutorado Sanduíche Capes/Fulbright. Mestre em Comunicação formado pelo PPGCom-Uerj. Graduação em Comunicação Social com habilitação em Jornalismo também pela Uerj. Foi bolsista de iniciação científica pelo CNPq do grupo de pesquisa Comunicação, Entretenimento e Cognição (Cibercog) do qual ainda faz parte como voluntário.
INTERESSES DE ORIENTAÇÃO: Cultura hacker e pirataria; Interfaces gráficas e letramento digital/midiático; Game Studies, lúdico e entretenimento; Cognição corporificada e cognição atuada; Gambiarra, antropofagia e biopolítica.
CV resumido (inglês)
PhD in Communication and Culture from Federal University of Rio de Janeiro (UFRJ) under the Faperj Nota 10 fellowship. Visiting researcher at University of Wisconsin-Milwaukee under the Capes/Fulbright Grant for doctoral exchange. Master's degree in Communication from Rio de Janeiro State University (UERJ). Bachelor's degree in Communication with a concentration in Journalism from the same institution. Affiliated with the Communication, Entertainment and Cognition (Cognition) research group.
Interesses de orientação (português)
-Cultura hacker e pirataria
– Interfaces gráficas e letramento digital/midiático
-Game Studies, lúdico e entretenimento
-Cognição corporificada e cognição atuada
– Gambiarra, antropofagia e biopolítica
Interesses de orientacão (inglês)
– Hacker culture and piracy
– Graphic-user interfaces and digital/media literacy
-Game Studies, ludic and entertainment
– Embodied cognition and enacted cognition
-Gambiarra, anthropophagy/cannibalism and biopolitics
Projeto de pesquisa (português)
"Saudações do Terceiro Mundo": customização de games, gambiarras e cultura hacker nos BRICS
A partir de pesquisa na atualmente extinta rede social Orkut (2004-2014), constatou-se que comunidades virtuais de jogos digitais (games) abrigam grupos hackers dedicados à distribuição e customização desses produtos culturais. Focado nos aspectos materiais e cognitivos dessas iniciativas construídas por meio de interfaces gráficas, esta pesquisa pretende aferir como as comunidades e os próprios games dão origem a práticas promotoras de habilidades cognitivas, modos de letramento e, espera-se, formas de ação política…mesmo que não ideológica. A opção pelos BRICS (Brasil, Rússia, Índia, China e África do Sul) representa uma tentativa de validar a hipótese de uma apropriação tecnológica diferenciada que incorpora a precariedade, o improviso e a transitoriedade (a natureza provisória) dentro de um ethos contemporâneo da ordem do devir. Ou seja, menos dependente de um sujeito apropriador do que de uma subjetividade da apropriação: um devir-hacker incorporado/encarnado pela ideia de gambiarra.
Projeto de pesquisa (inglês)
"Greetings from the Third World": custom games, gambiarras and hacker culture in BRICS countries
The social network Orkut (2004-2014) may be defunct, but its virtual communities once harbored Brazil's most effervescent game modding groups. Focusing on the material and cognitive aspects of initiatives build through graphic user interfaces, this study intends to investigate how these virtual communities and the games themselves bring forth cognitive skills, modes of literacy and forms of political action…even if they are not ideological. The case study with BRICS countries (Brazil, Russia, India, China and South Africa) represents our attempt to validate the hypothesis of  a differentiated technological appropriation. One that embodies the said precariousness, improvisation and a provisional nature in a contemporary ethos. In this I emphasize less the subject, the one doing the appropriation, and more an appropriation subjectivity: becoming-hacker substantialized in the Brazilian notion of gambiarra.
Publicacões
MESSIAS, José; BARBOSA, R. O. . Literacy in the Age of Digital Culture and Multimedia: Extending the Notions of Text and Learning through Customization Practices Related to Video Games. International Journal of the Book, v. 14, p. 41-53, 2016
Homepage:http://ijhbpl.cgpublisher.com/product/pub.339/prod.12; Série: 2; ISSN/ISBN: 14479516
MESSIAS, José. Notas sobre a pirataria de games no Brasil: inclusão (digital) dos pobres e resistência. In Texto (UFRGS. Online), v. 33, p. 154-173, 2015
Palavras-chave: entretenimento; games; pirataria; resistência.; Meio de divulgação: Digital. Homepage: http://seer.ufrgs.br/index.php/intexto/article/view/47082; Série: maio/ago; ISSN/ISBN: 18078583
MESSIAS, José. A Materialidade e a Linguagem do Entretenimento: capacitação cognitiva em iniciativas hackers dedicadas a games. Brazilian Journal of Technology, Communication, and Cogntive Science, v. 2, p. 1-13, 2014. Homepage:http://www.walterlima.jor.br/revista/index.php/revista_tecccog/article/viewFile/28/42; Série: 1; ISSN/ISBN: 23577126.
MESSIAS, José. "PEER PIRACY": aspectos centrais da produção por pares e da pirataria e suas contribuições nas transições do capitalismo contemporâneo. P2P e Inovação, v. 1, p. 77-90, 2014
Homepage:http://revista.ibict.br/cienciadainformacao/index.php/p2pinovacao/article/view/2248/1832; Série: 1; ISSN/ISBN: 23587814.
HELAL, Ronaldo ; MESSIAS, José . Histórias em quadrinhos e a cultura contemporânea: a relação do herói com a autoridade policial e com o governo vigente. Revista Comunicação Midiática (Online), v. 8, p. 93-114, 2013
Homepage: http://www.mundodigital.unesp.br/revista/index.php/comunicacaomidiatica/article/viewFile/370/203; Série: 2; ISSN/ISBN: 22368000
OLIVEIRA, F. C. R. M. ; MESSIAS, José . Comunicação, tecnologia e cognição: rearticulando homem, mundo e pensamento. In: Fátima Regis; Anderson Ortiz; Luiz Carlos Afonso; Raquel Timponi. (Org.). Tecnologias de comunicação e cognição. 1ed.Porto Alegre: Sulina, 2012, v. , p. 23-51.
Homepage: http://www.editorasulina.com.br/detalhes.php?id=607; Número da revisão: 1; ISBN: 9788520506752. (capítulo de livro)
MESSIAS, José; MAIA, Alessandra ; MELLO, V. D. L. . Games "Customizados" e o Desenvolvimento de Habilidades Cognitivas Específicas: Criatividade, Sociabilidade e Capacitação Técnica na Cibercultura. Contracampo (UFF), v. 24, p. 44-63, 2012
Homepage:http://www.uff.br/contracampo/index.php/revista/article/view/214/116; Série: 1; ISSN/ISBN: 14147483.
MESSIAS, José. Aspectos técnicos das histórias em quadrinhos como forma de identificação cultural: mangás, comics, cultura de massa e metalinguagem. ELO – Grupo de Pesquisa em Comunicação Intercultural, v. 2, p. 5, 2010
Homepage: http://www.elo.uerj.br/pdfs/ELO_Ed8_Artigo_IdentificacaoCultural.pdf; Série: 8; ISSN/ISBN: 19849109.
MESSIAS, José; OLIVEIRA, F. C. R. M. . TECNOLOGIAS DE COMUNICAÇÃO, ENTRETENIMENTO E COGNIÇÃO NA CIBERCULTURA: UMA ANÁLISE COMPARATIVA DOS SERIADOS O INCRÍVEL HULK E HEROES. Logos (UERJ. Impresso), v. 31, p. 30-44, 2009.
Homepage: http://www.e-publicacoes.uerj.br/index.php/logos/article/view/336; ISSN/ISBN: 01049933
MESSIAS, José; OLIVEIRA, F. C. R. M. . Who watches the watchmen? Uma análise transmidiática. Revista Contemporânea (UERJ. Online), v. 13, p. 141-156, 2009
Palavras-chave: mídias colaborativas; Watchmen; citações; vigilância.; Meio de divulgação: Digital; ISSN/ISBN: 18060498