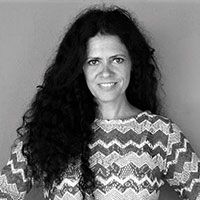 Lattes CV:  http://lattes.cnpq.br/5318250490460865

Short CV:
She holds a B.A. in  Communication and a B.A. in Anthropology from Buenos Aires University (UBA), a master degree in Communication from UFF, a PhD in Collective Health from the Graduate Program in Social Medicine at UERJ and a PhD in Communication and Culture from UFRJ. In 2012, she conducted postdoctoral research at Université Paris VIII, France, as a CAPES Senior Research Fellow, and, in 2019, at Buenos Aires Univeristy (UBA), Argentina. She is both a CNPq and a FAPERJ Research Fellow.
Advising Interests:
1) Images and bodily practises in contemporary culture.
2) Genealogical studies on bodily and subjective constructions.
3) The influence of arts and media on the production of subjectivity.
4) Analyses of the relations between technologies, bodies, and subjectivities in different times.
5) The influence of digital technologies on subjectivities, bodies, and sociability.
Research Project
Genealogy of obscenity: From the pornfication of gazeto the politicisation of nudity
This project analyses certain shifts in the definition of obscenity. Although nudity images and allusions to explicit sexuality multiply in the contemporary media and artistic landscapes, there is a trend toward  reproving only a few of them for being "indecent" according to new meanings, claiming a  bodily "purity" of a new character. Within this battlefield, there are numerous resistances and contradictions, which seem to emerge upon the historical transformation of images of the body.
Publications
O show do eu: A intimidade como espetáculo.
https://www.contrapontoeditora.com.br/produto.php?id=10006
O homem pós-orgânico: A alquimia dos corpos e das almas à luz das tecnologias digitais.
https://www.contrapontoeditora.com.br/produto.php?id=3041
Redes ou paredes: A escola em tempos de dispersão. Rio de Janeiro: Contraponto, 2012.
https://www.contrapontoeditora.com.br/produto.php?id=288
The online "addiction" as a malaise of the 21st century: From repression by the law to "free" unlimited stimulation
https://www.tandfonline.com/doi/abs/10.1080/00207578.2019.1702882?af=R&journalCode=ripa20&
The digitalization of life: A genealogy of the body-machine
https://www.pdcnet.org/du/content/du_2019_0029_0003_0093_0102
Você é o que Google diz que você é: A vida editável, entre controle e espetáculo.
https://seer.ufrgs.br/index.php/intexto/article/view/75091
Los cuerpos visibles en la contemporaneidad: De la purificación mediática a la explicitud artística.
http://www.kaypunku.com/index.php/kaypunku/article/view/119/157
O que é ser saudável? Entre publicidades modernas e contemporâneas .
http://revistas.pucsp.br/index.php/galaxia/article/view/25865/21218
O corpo como máquina: Da normalização à otimização. http://www.comciencia.br/comciencia/?section=8&edicao=120&id=1462
Autenticidade e performance: A construção de si como personagem visível. http://revistas.unisinos.br/index.php/fronteiras/article/view/fem.2015.173.09/4984 
A nudez auto-exposta na rede: Deslocamentos da obscenidade e da beleza? / 
http://www.scielo.br/scielo.php?script=sci_arttext&pid=S0104-83332015000100171&lng=pt&nrm=iso&tlng=pt#B05
La "pornificación" de la mirada: una genealogía del pecho desnudo. 
http://revistas.javeriana.edu.co/index.php/cma/article/view/9813
La intimidad como espectáculo