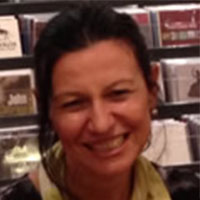 CV Lattes:  http://lattes.cnpq.br/6382966782640472

Short CV:
She holds a B.A. in Social Sciences, a master degree and a PhD in Communication and Culture from the Federal University of Rio de Janeiro. She conducted postdoctoral research at McGill University, Canada (2008) and King's College, U.K. (2015/2016) as a visiting research fellow.
She has experience in education and research in the area of Communication, Culture, and Technologies, and particularly in the concentrations sound, music, and digital culture. She is a PQ/CNPq Research Fellow since 2000.
Advising Interests:
Music and pop culture in local and global sceneries
Sound, Music, and digital culture
Materialities and affects in music practises
Peripheral genres and musical scenes
Disputes on value and taste in music fandoms
Research project
Materialities, bonds, and performances of musical scenes within digital platforms environments
Based on the premise that musical scenes can be understood  as hybrid and heterogeneous associative networks, formed by human and non-human actors,  the aim of this project is investigating aesthetic and identitarian aspects  of the networks  configured by smartphones, YouTube, and Brazilian "peripheral" musical scenes, in dialogue with Materialities theory, Actor-Network theory, Sound studies, and Music sociology, considering their implications for the revision and proposition of theories and methodologies within the field of Sound and Music Studies.
Publications
PEREIRA DE SÁ, S.; POLIVANOV, B. B. . DJ Jesus Luz?!Controvérsias, capital subcultural e performance de gosto em uma cena de música eletrônica.. Famecos, v. 23, p. 1-18, 2016.
http://revistaseletronicas.pucrs.br/ojs/index.php/revistafamecos/article/view/20971
PEREIRA DE SÁ,  S. Apropriações low-tech no funk carioca: a Batalha do Passinho e a rede de música popular de periferia. Revista Fronteiras (Online), v. 16, p. 28-37, 2014.
http://revistas.unisinos.br/index.php/fronteiras/article/view/fem.2014.161.04
PEREIRA DE SÁ, S.. The Numa Numa Dance e Gangnam Style: videos musicais no Youtube em múltiplas mediações. Galáxia (São Paulo. Online), v. 28, p. 159-172, 2014.
http://www.scielo.br/pdf/gal/v14n28/v14n28a14.pdf
PEREIRA DE SÁ, S.; CUNHA, S. E. . Controvérsias do funk no YouTube: o caso do Passinho do Volante. Revista Eco-Pós (Online), v. 17, p. 1-14, 2014.
https://revistas.ufrj.br/index.php/eco_pos/article/view/1401
PEREIRA DE SÁ, S. Contribuições Da Teoria Ator-Rede Para A Ecologia Midiática Da Música // Contributions Of Actor-Network Theory To The Media Ecology Of Music. Contemporanea (UFBA. Online), v. 12, p. 537-555, 2014.
http://www.portalseer.ufba.br/index.php/contemporaneaposcom/article/view/12402
SÁ, SIMONE; MIRANDA, GABRIELA. Brazilian Popular Music Economy Aspects: The Baile Funk Circuit. IASPM Journal (Journal of the International Association for the Study of Popular music), v. 3, p. 9-18, 2013.
http://www.iaspmjournal.net/index.php/IASPM_Journal/article/view/596/pdf_2
PEREIRA DE SÁ, S. Ando meio (des)ligado? Mobilidade e mediação sonora no espaço urbano. E-Compós (Brasília), v. 14, p. 1-20, 2011.
http://www.compos.org.br/seer/index.php/e-compos/article/viewFile/666/524
PEREIRA DE SÁ, S. Funk carioca: música eletrônica popular brasileira?!. E-Compós (Brasília), v. 10, p. 3, 2007.
http://www.compos.org.br/seer/index.php/e-compos/article/view/195/196
BOOKS:
PEREIRA DE SÁ, S; CARREIRO, R.; FERRARAZ, R. (orgs.)
Cultura Pop – Salvador, EDUFBA/COMPÓS, 2015
http://www.compos.org.br/data/Cultura_pop_repositorio.pdf
PEREIRA DE SÁ, S.- Baiana Internacional – As mediações culturais de Carmen Miranda. RJ, MIS/FAPERJ, 2002